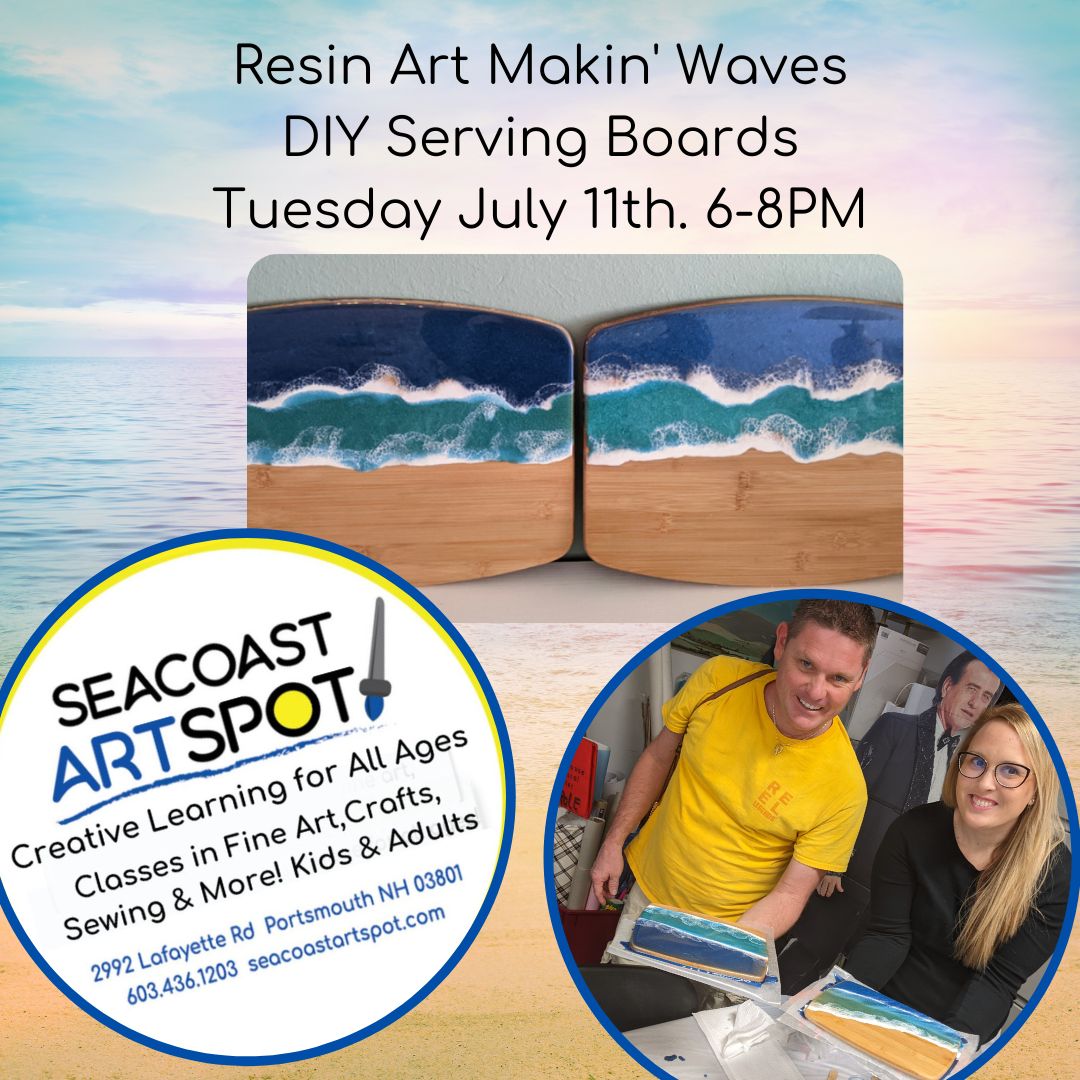 DATE:   July 11th
TIME:   6 pm-8 pm
$66. all materials included
Let's Make some waves!
During this 'free pour' workshop you'll learn about resin, pigments, tools & different techniques to create this realistic wave action on a 11" x 14" charcuterie board
You will first practice applying the learned techniques on a pressed board 
Then you will apply the technique a 2nd time onto your charcuterie board.
It is recommended to wear an apron or clothing that you do not care if resin drips
This workshop requires standing for a long periods of time. Please contact me if you require other accommodations. 
***CR

 

highly recommends the charcuterie boards are left overnight to cure. They can be picked up the next business hours or the designated time by host.
If you choose to transport the board home to cure, it is "at your own risk." Bring a box large enough to place it in.
Seats are limited for this workshop
The resin is 100% VOC Free, USDA approved food safe and no respirator needed. 100% Made in USA!
Reserve your seat in advance via the weblink provided below: 
https://creative-resin-ations.ticketleap.com/makin-waves-on-charcuterie-board-portsmouth-nh-/dates/Jul-11-2023_at_0600PM
And scroll down the list to July 11th event.
***Due to the logistics of this workshop, please be at your seat and ready to begin at the designated start time. Those who are late will be rescheduled to the next available workshop if there is space. Please check your GPS/GOOGLE MAPQUEST well in advance for drive time, traffic and weather conditions.*** 
Brigitte  Miner –  Fun-Spirationist
Creative Resin-ations
Join us on FACEBOOK: Creative Resin-ations